A Legacy of Wellness
CHARLENE'S NUTRITION CENTRE
Thanks to the continued support of the people on and off the island, Charlene Anderson continues to live out her dream of owning Charlene's Nutrition Centre (CNC), a business that specializes in the health and wellness of her loyal customers.
"Charlene's Nutrition Centre is a health food store that carries a bit of everything; vitamins; supplements; aromatherapy; bulk foods; sports nutrition; spices; and so much more," Charlene told the Chamber. "We try our very best to have a health food store that carries as much as possible while bringing in new and exciting products for all of our customers."
Charlene and her husband, Robert, work together in the daily operations of running the Health Food store. It was in 1998 that Charlene first opened the doors to CNC, as she followed in the footsteps of her father's dream which was for his children to go into business together.
"My father had an office beside my current location and when this house went up for sale, he bought the property with a vision that happened to align with the dream my brother, David Dunn, and I wanted to fulfill."
Today, Charlene and David work side by side; on the first level is the health food store, on the second is the chiropractic office, and on the third floor is massages and laser therapy.
"My family actually immigrated to Canada from Boston when I was seven years old," Charlene shared. "A highway was being built through my home, literally straight through my house. Instead of moving closer to the city, they decided to move to our little cottage in Bay St. Lawrence. We lived there for six months and then we moved to our permanent home in North Sydney. Once we migrated, my father opened his practice on the island and the rest was history!"
It was the people on the island that initially brought Charlene's parents to Cape Breton to build their cottage, and years later it became their permanent home. Today, Charlene attributes her success to each customer that supports her dream by shopping locally at her health food store.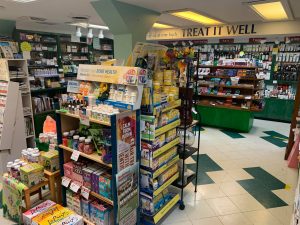 "I really appreciate how loyal my customers are, each one is caring and thoughtful. A lot of our customers are from around the world because they have family here, and whenever they come home they make an effort to come in to visit and shop."
Due to the pandemic, Charlene hasn't seen the smiling faces from away but some have taken the time to message her asking her to create a care package for their loved ones. "They told me their loved one's favourite things and so I packaged them up and did contactless delivery. It gave me so much joy but also was a wonderful surprise for each person I brought the gift to."
The pandemic is not the first challenge that CNC faced, "Kings road closed for almost two years and people couldn't get into my store. Here I was 8 years into CNC and I was no longer easily accessible. But the customers were so dedicated that they would drive down the side streets, getting as close as they could, and they would navigate construction on foot to get to us. They kept us going."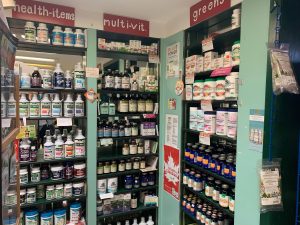 Charlene and her team had conquered challenging times in business, but it wouldn't have gone as smoothly without the dedication of her customers.
"I'm so thankful for all of the years I could do business, and I'm thankful to everyone who keeps me in business. Overall, Cape Breton is a beautiful place to own a business because everyone wants to see you succeed."
Charlene recently launched her online shop that ships everywhere across Canada. To shop her products or learn more about Charlene and her brother's business, visit charlenesnutritioncentre.com, or visit them at 254 Kings Road, Sydney.