Meaningful Opportunities at METI
Maritime Environmental Training Institute
From environmental clean-up to oil and gas training, truck driving to rentals, and most recently Young Drivers, the team at Maritime Environmental Training Institute (METI) are always seeking to offer new, meaningful opportunities for their students.
"METI is a private career college and we've been in business for over 20 years. It was my father Kevin's idea. He was an entrepreneur of many businesses; for example, we had a construction company and an environmental clean-up company. At the time, there were not many certified workers in Cape Breton, so we had staff trained in mold, lead, and asbestos remediation," shares METI (CEO), Joe Pembroke.
"It grew from there. We got into the hazardous waste side of things with the Sydney tar ponds, and it's grown year after year ever since."
Sitting on the corner of Alexandra Street and Churchill Drive, METI boasts an impressive 22,000 square feet of training space on 2.5 acres. They have 11 classrooms that can hold between 20 and 25 students, as well as a hazardous waste room, confined-space simulators, fire simulator, a full scaffold yard including rental, rescue tank, Class 1, Class 3, and Class 5 vehicles plus more.
"We are diverse and have various equipment on-site to allow for the full training experience."
In 2009, METI expanded into an online training system and purchased an online training management system that had over 50,000 users on it.  Recently, within the last month, they upgraded the system and now offer just over 50 courses online. There are about 700 different companies using the system globally and all across Canada.  So, while their building may be sitting on the corner, METI's staff and products certainly are not!
Prior to the pandemic, they did a lot of training in South America on a project with Exxon, traveled to Scotland multiple times for oil and gas training, and even developed training for companies in Bangladesh.
Beyond the online training system and international partners, there are many ways to attend METI locally: full-time training as well as business and personal training.
"One of the benefits we have for our students is our direct relationships with industry. We currently work with over 500 businesses, so we can help point our students in the right direction. We can't guarantee them employment, but we can help them set up interviews. We are certainly in touch with the companies that are looking for staff."
In normal circumstances, METI will graduate between 200 and 300 full-time students per year; as for individual certificates, they number in the thousands. During the first week of the COVID-19 shut-down in March 2020, they had over 500 people booked for certificates in that week alone.
"It was a lot of phone calls," laughed Joe and Deborah White, METI's director of administration, at the afterthought.
Recognizing the phenomenal business developments and customer service of METI, in 2018,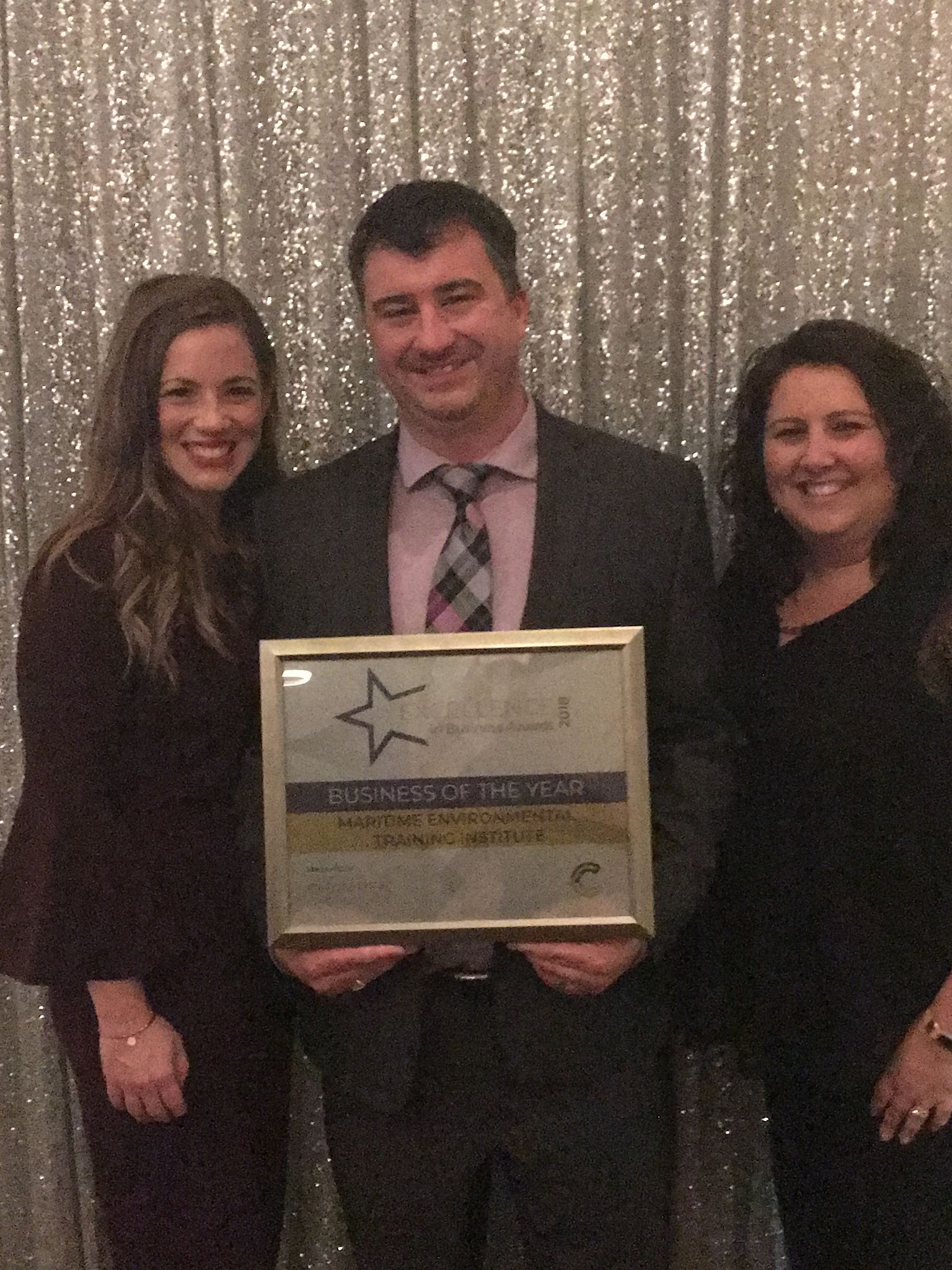 they won Business of The Year at the Cape Breton Regional Chamber of Commerce's Excellence in Business Awards, and are still proudly wearing the honour to this date.
"We were surprised to be nominated, let alone win. That, in our eyes, showed us that people appreciate what we do for the community and that we must be doing something right. It was a proud moment knowing that our clients have pride in our products and offerings. For us, we have helped so many people over the years and so many people have helped us. It was a good moment to step back and reflect on everything we have accomplished in the last 20 years. It was truly a team win. The whole team felt the win," shared Joe.
It is wonderful to see METI still wearing the honour with pride. You can see their award advertised on all of their trucks, in their email signatures, and they continue to spread the word. For years they have felt they are one of Cape Breton's 'best-kept secrets' business-wise.
"You asked Joe earlier about the success of METI from an outside perspective. I think some of the success from METI is the humbleness that comes from both Joe and Suzin over at the helm here. They are regular people that are approachable for anything, and people feel that when they come in. People come in and they ask 'is Joe in?' It's very personal and I think that's part of it. People come back for more than one program – and that speaks volumes," explains Deborah.
When it comes to METI, they are exceeding the standards, connecting people to the industry, and providing a safe, comfortable facility for its students. Not to mention, whether you're in a course or meeting the METI team for the first time, it quickly becomes clear that they are professional and serious, but also have a fun side.
To learn more about METI, visit their website https://www.metiatlantic.com/ or get in touch with their team directly by telephone at (902) 539-9766.