What's on the Menu?
CLICK2ORDER
It takes courage to leave a stable job and pursue a business dream you believe in; nonetheless, this is exactly what Matt Stewart did when he founded Click2Order alongside business partner Robert Myers.
"Click2Order began in 2015 as a software company that builds online ordering systems for restaurants," shares Matt. "As the market changed in Cape Breton, we realized that we could do more and so we introduced online delivery to our platform. Here on the island, this is known as CB Eats."
Matt, Robert, and their team manage CB Eats, but also Nish Eats in Antigonish, Truro Eats in Truro, Island Eats in Newfoundland (NFLD), and even more delivery services across other provinces like Prince Edward Island and New Brunswick (NB).
Today, Click2Order now has over 120 partnerships with restaurants across Canada. Each partnership is a business that they deliver for, and each business can have multiple locations, which is common with restaurants such as Subway or McDonalds.
"In 2014, we entered the Spark competition with the concept for the business and we won $10,000! It was a new idea in Cape Breton, so we actually started in Alberta while operating out of Sydney."
Matt has always been interested in entrepreneurship with his father being a small business owner and his grandparents both being self-employed as well. "My grandfather owned several restaurants in the Truro area which is what inspired me to break into this industry. I have also always had passion for technology, so to marry the two ideas I love has been incredible."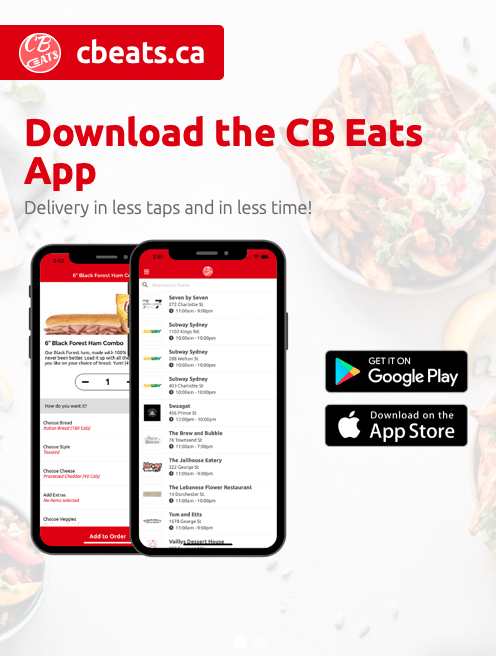 Taking a business diploma in accounting at the Nova Scotia Community College (NSCC) campus in Truro, Matt was brought to Cape Breton by luck when he bumped into a Cape Breton University (CBU) recruiter.
"When I finished my program at NSCC, I really wasn't very sure what I wanted to do. It was by chance that there was a recruiter from CBU on campus. After one conversation I decided to continue my studies in Cape Breton, and now I hold a Bachelor of Business Administration with a major in Marketing."
After graduating, Matt worked for CBU where he gained more valuable experience in the field of business; however, he reached a point where he didn't want to refrain from his entrepreneurial dreams any longer. Matt decided to take a leap of faith and chase his goals!
"I took a risk and transitioned from a stable 9-to-5 job because I decided that if we are going to do this then it is all or nothing. It was that realization that inspired me to leave my job and pursue this."
It is a tough road to leave a stable job to pursue business, especially when setbacks are imminent, but Matt's advice is to "just do it."
"There are unique opportunities here in Cape Breton to build great businesses. I know we often hear the negative, but you also hear that where I grew up outside of Truro. You hear that when I talk to clients in Corner Brook, NFLD, or WoodStock, NB. You will always hear that same thing, but every area has its own opportunities, you just have to find them and you can start something amazing."
In support of Small Business Week 2020, Click2Order is partnering with the Chamber to offer $2 delivery between 11 a.m. and 2 p.m. in the CBRM from October 19-23. To learn more about Matt, Robert, and Click2Order, visit www.click2order.ca
To order through CB Eats, visit cbeats.ca or download their app in the App Store, simply search CB Eats.