Chamber gives away more than $18k in gift cards to essential workers
Sydney, NS – Cape Breton Regional Chamber of Commerce kicked-off its Step Up for Local campaign by giving away more than $18,000 in gift cards from local businesses to organizations and employees that have been essential throughout the pandemic.
The Chamber team drove the Step Up for Local van throughout the CBRM, and visited essential workers at local organizations and businesses. To say 'thank you' for their efforts over the past 20 months, they distributed gift cards through a one-of-a-kind,
custom vending machine. At the same time, they delivered one big message: Step Up for Local. The Chamber visited gas stations, grocery stores, restaurants, banks, and more – spreading joy and thanking each and every employee at more than 20 businesses and organizations chosen by the community!
"With the holiday season upon us, now is our opportunity to really put our money where our heart is. There are more than 3,000 locally owned and/or operated businesses in the CBRM – all of whom support our economy, create jobs and give back to local charities and causes – these businesses have a dramatic impact on the quality of life here at home. This campaign demonstrates how easy, rewarding and important it is to support these CBRM-based businesses, while also celebrating those who have been essential to our community and our economy throughout the pandemic," says Cape Breton Regional Chamber of Commerce CEO, Kathleen Yurchesyn. 
More than 100 businesses have made this campaign possible, including Cape Breton Beverages and Downeast Vending who provided the custom vending machine, Colbourne Auto who has provided the Step Up for Local van to the Chamber, and Brilun Construction who built the awesome yellow 'step up' stairs!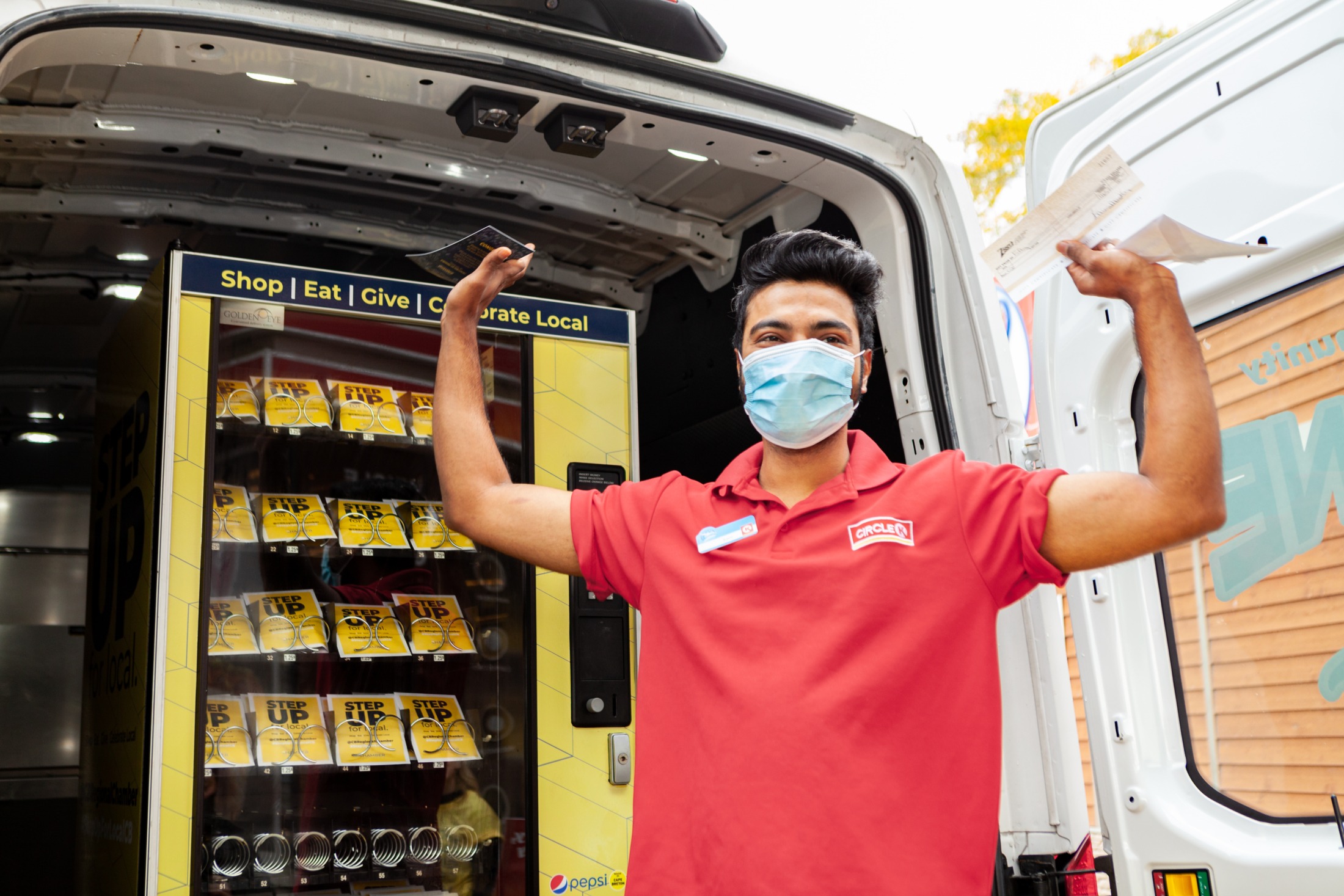 The Chamber used a grant to implement a shop local initiative supported by the Government of Canada. Included in this initiative was the purchasing of these gift cards from local businesses. When informed about the campaign, most participating businesses provided additional gift cards to double the campaign's reach and thank more people. 
"We encourage you to shop, eat, give and celebrate local," says Yurchesyn. "To win a visit to the Step Up for Local vending machine and a gift card to a local business, share your shopping experiences online by tagging @CBRegionalChamber and using hashtag #StepUpForLocalCB."
Media Contact:
Kathleen Yurchesyn
CEO, Cape Breton Regional Chamber of Commerce
902-578-4029
[email protected]